Desert truck MZKT-790976 from model group minilorry
Model group minilorry (GP No. 10 of 2011) continues to develop the theme of the production model of domestic truck scale 1:50. A recent innovation in this segment has become a desert truck MZKT-790976. The model, like the previous copy – six-axle Transporter MZKT-79086 was originally designed in the 3D drawings. Grown on their basis details subsequently became the great master-models, which were then cast all the main components from the resin.
The wheels of the model are an exact copy of desert tires Michelin 23,5R25. Form for the manufacture of the wheels was made on the basis of casts and measurements of the original wheels. Then 3D drawing of mini-wheels were made form hardened stainless steel by the method of electroerosion processing. As a result, the wheel was perfect, although the budget is the decision to not call! Wheels made of rubber. Some parts (steps, frame winches, air conditioning) with a particularly complex form (for molding) was obtained on stereolithographically the installation SLA.The details of the winch and some side brackets, bearing boxes made of sheet copper with the technology of photo-etched parts.
For the manufacture of mirrors was used for synthetic material of 0.5 mm thickness with a mirror coating. It was cut using a precision laser system from exact copying of all curved surfaces, as the original car mirrors.
The laser used for engraving of fans air conditioning and two deck decking, which I had to set the relief notch.
The first instances of the model MZKT-790976 yet suppression system. The form of them not yet completed. But soon they will appear and will is made of rubber.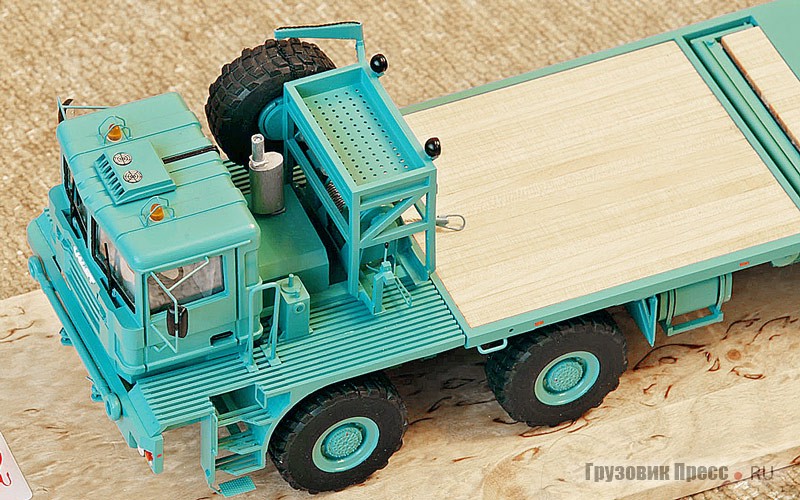 It should say that the manufacture of the model was used laser cutting, engraving and wooden decking elements. All events on detailing because of the high cost will affect the price of the model, but, of course, very it is decorated.
In General, the model belongs to the premium class scale model (Museum quality), which do not properly compare with the mass of high quality products (imported), nor with models (autoculture), made on technologies of the last century.
Price 15 500 RUB delivery (this includes the cost model, wooden stand, dome of arcticle and packing with color photos).